You've made a great start, now it's time to fund your vision.
Don't burn your best contacts and opportunities with poorly prepared information, decks, and pitches. Invest time and resources now to make sure your business gets funded, faster. Take our Investor Readiness Test to help you highlight your startup's strengths and weaknesses today.
Raise capital faster and easier with Funden's unique set of tools and services.
Get warm introductions to more than 600+ in-network VCs
Outsource your fundraising grunt work to a team of experts
Strategic guidance, consulting, and services to ensure you raise
Try for free, then copy and paste this discount code "FUNDED10" to get a lifetime discount of 10% for Funden Lite.
Sign up here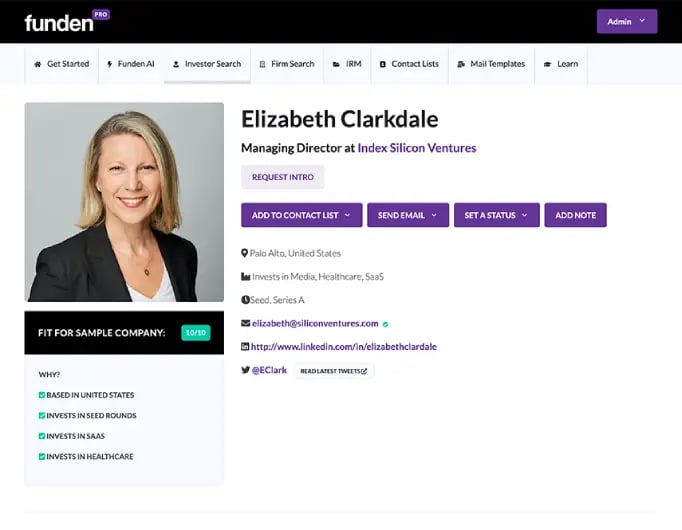 Revenue-based financing partners
If your startup is generating monthly recurring revenues, revenue-based financing (RBF) can help you raise capital quickly and accelerate user acquisition.

Clearco
Clearco is the world's largest ecommerce investor and growth platform, giving founders the financial tools, capital, and network they need to grow. Clearco specializes in growth capital for:
Online businesses with at least 6 months of revenue history;
Located in the United States;
On simple Terms: 8% flat fee (when capital is spent on preferred vendors like Facebook Ads, Google Ads; No personal guarantees; No Equity
Apply here
Pipe
Pipe transforms recurring revenue into up-front capital for growth without dilution or restrictive debt for companies with:
Revenue streams recurring on a weekly, monthly or quarterly basis;

At least 3 months of runway or profitability;

~10 unique recurring customers;

Revenue streams denominated in GBP or USD with a UK or US HQ or subsidiary.


Capchase
Capchase is the only recurring revenue financing solution that scales at your pace – without dilution or debt. With Capchase, you will also have access to their analytics tool and partner with their Growth Advisory team, who will help you optimize your financing strategy during your growth journey. Capchase supports companies with:
Recurring revenues (SaaS, subscription or contract-based)
ARR from $100k to $50M
At least 6 months of revenue history
At least 3 months of runway or profitability
Positive year-on-year revenue growth
Apply

here
Making a marriage with investors can sometimes require a bit of growing up through the tough "teenage" years of a startup.
You'll need to be clear about your traction, have a solid vision and know exactly how you will use the funds for growth.
Find out where you are on the Investment Readiness Level chart

Get instant feedback on your business, team, vision, and funding options

Gain insightful tips on how to be better prepared for your investor talks